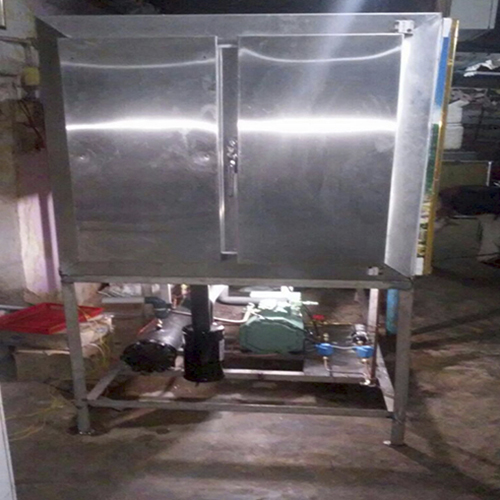 Tunnel Freezer
Special Features of tunnel Freezer
Enclosure: The enclosure cabinet should be well finished and made of PUF panels. The dimensions should be 8ft (L) X 4ft (W) X 4ft (H).
Operating Temperature Range : -35De C
THE DOOR:
The door should be single, Small  hinged, side swing type, left & Right hand opening, one service door
PUF PANELS:
Insulation Core thickness for 150 mm PUF insulation Density: 38 – 40 kg/m3Inner skin Of the panels : min. 0.5mm thick pre coated / painted GI sheet steelOuter skin Of the panels : min. 0.5mm thick pre coated / painted GI sheet steel Jointing (panel to panel): auto lock Sealing: Silicon sealant by pressure gun with Pop Up Rivit.  TECHNICAL SPECIFICATIONInternal load : 1000 gel packs  / 1000 Kgs of Choco bar mould  .Number of door openings : 20 per dayMax. ambient temp : +35Deg C / -10 deg c Temp. Required -35o C.Refrigeration units: 1 sets of, Air-cooled Split Refrigerant  : R-22 /R-404aCompressors: Hermetic / semi Herimatic Compressor  Evaporating units  :astro teck Make SS cabinet with fan, and, coil of copper tube with  aluminum fins      Condensing Units : astro teck make  Air cooled, repainted GI cabinet housing compressor, copper coil  with aluminum fins condensor,  Refrigerant Piping: Seamless copper tubes of required size complete with fittings and tubular insulation as required.  Temperature Controller:Digital Display Thermostat with control panel
Drain: The indoor unit drain has to be connected to the nearest drain point with necessary piping providing proper slope.
Temperature :
Option A – Heavy Duty -26°C to -30°C
Option B– Cascade Type -26°C to -40°C
Body :
Option A – Outer & Top Door GIPP, Inner – S Grade 304, Inner Structure S.S Grade 202Pipe & Angle.
Option B – Fully S.S Grade 304, Inner Structure S.S Grade 202
Hardening Time
Ice Candy – 15 minutes, Ice Cream Cup & Cone – 45 minutes.
1/2 Ltr Family pack – 3 hr, 1 ltr Family pack – 2.0 hr, 4 ltr bulk – 4 hr, 20 ltr nali – 6 hr.
Total height = Body height + Cond. Unit height + Stand height
Cooling capacity based on –
Standard – Evaporating Temperature -32°C and Condensing Temperature 50°C
Two Stage – Evaporating Temperature -37°C and Condensing Temperature 25°C
Application : Ice Cream Plant and in Pharmaceuticals Gel Packs